As seen in Toy Trader Magazine

- Published July, 1999 -
Three's Company
by Bill D. Morgan and Greg Davis

When "Three's Company" first aired on television 22 years ago, many critics quickly dismissed it as a titillating sexual romp with no socially redeeming qualities. There was nothing politically correct about it, but there wasn't supposed to be. The public, on the other hand, embraced "Three's Company" with open arms. Viewers accepted the show for what it was – an entertaining farce. Built on sexual innuendoes, silly misunderstandings, and physical mishaps, the show struck a liberating chord with TV viewers and shot to the top of the ratings during the 1970s.
Over two decades later, "Three's Company" is being celebrated as a commercially successful, but frequently misunderstood series with the release of Come and Knock on Our Door: A Hers and Hers and His Guide to 'Three's Company' by author Chris Mann. In the tell-all book, Mann uncovers the story behind the #1 hit sitcom, from its shaky start to its ensuing critical controversy - even after becoming one of the most-watched sitcoms in the country. Told through in-depth interviews with the show's stars, producers, directors, and crewmembers, Come and Knock on Our Door also exposes both the friendly and tumultuous relationships on the set, and explains what really happened behind the scenes.
BOOK BANTER
Come and Knock on Our Door (St. Martin's Press, 1998, $17.95) embodies not only "Three's Company," but includes the spin-offs "The Ropers" and "Three's a Crowd." The 300+ page soft back book, filled with black and white photos, takes a somewhat earnest look at what made "Three's Company" so successful. In the process, Mann sets the record straight as to why critics misunderstood what the show was all about. While great strides were taken to ensure the farcical series never took itself seriously, critics continued to look for its social relevance.
The book chronicles the rise and fall of the series by chiseling almost an entire decade into chapters based on each season. The first chapter, for example, explains why the third time was a charm when it came to filming the show's pilot episode. After the first season, relationships between cast members grew closer, while others grew apart. Mann uses quotes from the people that were there to paint a picture so real, the reader can feel the triumph vs. tension roller coaster ride.
To lighten the sometimes-dramatic mood, Mann intersperses entertaining snippets of information throughout the chapters. "Star Confessions" are anecdotal sidebars that describe non-"Three's Company" moments experienced by cast members. For example, Joyce DeWitt describes her venture with L'eggs panty hose and how she felt about filming "embarrassing" commercials. "Fashion Focus" takes a comical look at the every-changing fashions associated with the show. From Mrs. Roper's floral muumuus to Mr. Furley's attempts at a swinging-singles look, the fashion pictorials say almost as much as Mann's humorous tag-along text. "The Stars on Their Characters" and "Guest Star Memories" allow cast members to comment about the role they played in their own words.
TOY STORY
For fans of television memorabilia, it is disappointing to find out that Three's Company's toy fanfare wasn't as abundant as the viewers' love for the show. A short glimpse at the type of memorabilia produced is covered in just a few pages of the book. The lack of toy luster is not to the discredit of the author, however. Only a handful of merchandise was marketed, leaving a void in what could have been a hot collectible commodity.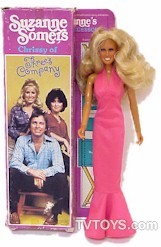 Of the memorabilia created, most relied on the star power and sex appeal of Suzanne Somers to sell the product. With the same agent behind her as poster-queen Farrah Fawcett, Suzanne made a respectable mark on poster sales with at least three revealing poses. "Suzanne Somers as Chrissy in Three's Company" was developed at the end of 1977, just in time to cash in on her emerging popularity during the show's first and second seasons. Scantily clad in a one-piece black bathing suit, Suzanne posed for her first poster by Dargis Associates, Inc. Originally selling for just a few dollars, the collectible is now valued at $25-$30.
Following the success of her first effort, "Suzanne Somers" and "Ms. Suzanne" appeared between 1978 and 1980. Both by Pro Arts, Inc., one features Suzanne wearing a blue one-piece bathing suit in front of a black background, and the other wearing all white.
Posters of John Ritter as Jack, the Ropers, and Mr. Furley were also made by Dargis Associates in 1977, while a risqué poster of Joyce Dewitt was made by Pro Arts, Inc in 1980. Despite their attempt, poster sales from the rest of the bunch didn't seem to stack up to any of the buxom Suzanne's pinups. However, these posters are harder to find than their co-star's and will command a higher value today at $30-$35 each.
American Publishing Company distributed two different jigsaw puzzles in 1978. One puzzle matches Suzanne Somer's first poster image, while the other showcases the entire original ensemble. Janet, Jack, Chrissy, and the Roper's are all smiles for their group photo on the cast puzzle. Finding them in complete condition can be a challenge. They are worth about $25 if found with all the pieces.
Probably because many toy merchandisers discounted "Three's Company" as an adult show based on its reputation as a sexual guise, only one doll managed to hit store shelves. The Mego Corporation designed a Chrissy doll in 1978. Dressed in a bright pink gown, the 12 ¼" doll was packaged in a purple box and included a posing stand and cut-out accessories. The accessories were printed on the back of the box, and included a sun hat, tennis racket, sunglasses, tote bag, and director's chair. Advertised as "TV's Newest and Most Glamorous Star," the doll box features a group color photo of the show's three stars. Unfortunately for collectors, Janet and Jack never made it into miniature form.
Perhaps one of the most plentiful of all related memorabilia are trading stickers by Topps. Housed in a yellow photo box, the bubble gum sticker packs were sold for 20 cents each. 44 stickers and 16 puzzle cards were collected to make a complete set. One side of the 16 puzzle cards could be assembled to view a complete color picture of Chrissy, with the other side displaying Jack, Janet and Chrissy on a blue background. The set of stickers and puzzle cards is valued at $25-$35. Individual packs can be easily found for a few dollars, while the display box sells for about $10.
Other "Three's Company" merchandise includes cast iron-ons, a Suzanne Somers Poster Put-On with the same pose as her first poster, sheet music with photo cover, TV Guides, Suzanne Somers' beach towel, and a mirror of John Ritter as Jack.
A CONVERSATION WITH THE AUTHOR
We recently caught up with Chris Mann to talk with him about his book and what made "Three's Company" such a hit.
Bill Morgan: What made you decide to write a book about "Three's Company?"
Chris Mann: I grew up with this show and it brought a lot of joy and laughter and healthy escapism to my life. It also inspired me comically, as I love making people laugh and hope to write my own sitcom one day. Anyway, my background is in journalism and graphic design, and I interviewed Suzanne Somers for my college newspaper, and later John Ritter for a Three's Company fanzine I wrote and designed when I was a student at The University of Tulsa in the early '90s. John Ritter in particular was very forthcoming about Three's Company and supported my idea of writing a book. He was the first person I interviewed when I moved to Los Angeles in July 1995.
Bill Morgan: What was the experience like when writing the book?
Chris Mann: It was fascinating to me. Here I was, not only meeting many of my comic idols and discussing this show, but I also had this great opportunity to get them to open up and talk about the joy they had together. At the same time, they talked about the heartache and anger many of them experienced when Suzanne left the show in 1981 and when the show ended in 1984. I simply couldn't believe my dream to tell this story was coming true. Fortunately, I kept my composure during the interviews, but I always had exciting stories to tell my friends.
Bill Morgan: How has it been received by those involved with the show?
Chris Mann: John Ritter sent me a bottle of champagne upon publication, and he later held the book up on "The Donny and Marie Show" and said how proud he was of it. (He even made a joke about the Chrissy doll during this appearance.) Joyce DeWitt promoted the book in numerous interviews and joined me with other cast members at various book signings. And Suzanne Somers sent me a nice letter. They all acknowledged the book, some very graciously, and that was icing on a very big cake for me.
Bill Morgan: "Three's Company" was a hit TV show. Why do you think it was so popular?
Chris Mann: Three reasons. First, it was wildly funny in a very broad sense, and was the first and only sitcom strictly patterned after French bedroom farces. Secondly, it was provocative for its time, and it gave people a chance to laugh at sexuality and those characters' reactions to "taboos" of society. And thirdly, people loved the characters, who loved each other. This show was really quite innocent and sweet; it had heart and soul, and it had John Ritter doing some of the best pratfalls TV has ever seen.
Bill Morgan: What do you think fans think of the show now?
Chris Mann: The show seems to appeal to young people as much now as it did then. I think some people see it as an early, more innocent, simplified version of "Friends." The show isn't as titillating as it once was, and it certainly was never topical or intellectual, but its humor holds up very well because it's visual, it's fun-loving, and it's funny.
Bill Morgan: What do you think about the merchandise that was sold during the original run of the show?
Chris Mann: There was too little of it! I wish the show had made the same merchandise-inspired splash as "Charlie's Angels," or even "Happy Days." But I think toy manufacturers largely shied away from "Three's Company" items because the show was perceived by many as too controversial for children, despite the show's huge audience of preteens. Still, the Chrissy bathing suit puzzle and posters are pretty titillating, even by today's toy standards.
Bill Morgan: If you could turn back time and market your own items, what would they be?
Chris Mann: Definitely a metal lunchbox with embossed images of Jack tripping, Chrissy jiggling and Mr. Roper wincing. And then the thermos would be exclusively Mrs. Roper in one of her most daring muumuus. Also, a board game about getting the rent money and avoiding the landlords and Larry at the Regal Beagle would be fun. And maybe some scarves from the Don Knotts/Mr. Furley collection. There are endless possibilities!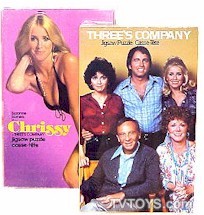 Bill Morgan: What is your favorite marketed item and why?
Chris Mann: I'd have to say after the Chrissy doll, the Three's Company cast puzzle. It just cracks me up. I can hear people struggling to put it together in the '70s. Parents and children -- and maybe even visiting aunts and uncles -- would be asking each other questions like "Who has Janet's hair?" and "What happened to the piece with Mrs. Roper's face?" The puzzle must have provided true bonding moments for many American families.
Bill Morgan: How do you think "Three's Company" stacks up to the face of comedy today?
Chris Mann: It's far more sexually innocent than most sitcoms on the air. And it's certainly more physical, and less self-aware. The show's charm is that it was so goofy and never tried to be anything other than what it was, which was very silly, often charming and sometimes heartwarming. I think it stands up as a classic, and unique in many ways.
Bill Morgan: You mention in your book that many critics disfavored the show, but many shows since then have been compared to it favorably by critics. Why do you think that is?
Chris Mann: "Three's Company" was totally apolitical, and it was coy about sexual matters. That upset many critics who loved the socially relevant, more adult sitcoms of the times. Also, lots of critics didn't get that the show was a farce and the characters weren't supposed to be that smart or too hip – if they were, the comedy wouldn't work! In the '90s, most comedies try very hard to be hip, so even if there are major elements of Three's Company at work in a sitcom, critics seem to overlook the influence because Three's Company didn't take itself seriously or try to be cool.
Bill Morgan: Are you working on any other book projects?
Chris Mann: I'm tossing a couple of ideas around, including a book on "Ellen" (which in many ways is to the '90s what "Three's Company" was the '70s and early '80s), but I'm also taking classes in sitcom writing. I'd love to make people laugh for a living, and I'd love to see characters I've created plastered across lunchboxes and tee-shirts, reminding kids of all ages how much fun they had laughing at their favorite show. It all ties together so well, doesn't it?
From the publication Toy Trader
Greg Davis and Bill D. Morgan are the authors of
Collector's Guide to TV Toys and Memorabilia — 2nd Edition Website: TVTOYS.com
Copyright (c) TVTOYS.com, Antique Trader Publications, Inc. All Rights Reserved.
---
Three's Company
QuickLinks
---