As seen in Pop Culture Collecting Magazine

- Published June, 1997 -
The
Partridge
Family
by Bill D. Morgan and Greg Davis
In the fall of 1970, Friday prime-time television was home to a family of five kids and a widowed mother who charmed America with their groovy pop tunes. With a bubble-gum sound and dressed in matching red velvet suits, the something-for-everyone cast of The Partridge Family bridged the generation gap and was an instant success with viewers.
Film and stage star Shirley Jones brought experience and guidance to the show as Shirley, while Dave Madden balanced it with comic relief as Reuben Kincaid. When sharp-witted Danny (Danny Bonaduce) couldn't keep his money-making schemes from turning sour, Keith (David Cassidy) was there to bail him out. In the process, Cassidy became a teenage heartthrob. Teenage boys couldn't see enough of Laurie (Susan Dey), tuning in to watch her do anything, including standing up for the women's liberation. Chris (Jeremy Gelbwaks from 1970-71 and Brian Forster from 1971-74) and Tracy (Suzanne Crough) rounded out the cast. The youngest members of the group, Chris and Tracy had minor roles as the band's drummer and tambourine player respectively.
The Partridge Family and their multi-colored bus went for a four-year ride with ABC, traveling through 96 episodes from September 1970 to August 1974. Although the bus had many colors, manufacturers of The Partridge Family memorabilia saw only one color ... GREEN! The marketing campaign for The Partridge Family was one of the largest ever conducted for a television show at that time. So large in fact, that over 200 items from toys to hit records were offered for sale, generating millions of dollars in revenue.
The money machine actually began before The Partridge Family premiered, when Bell Records released its first single, I Think I Love You, in the summer of 1970. The first full-length record, The Partridge Family Album, was distributed later that year and featured a group photo in the album jacket, becoming the first of many premiums that would be inserted in later albums. Interestingly, all of The Partridge Family records are labeled with the caption "Starring Shirley Jones and featuring David Cassidy." They were the only cast members to lend their voices to the recordings. The rest of the cast merely lip-synced the words.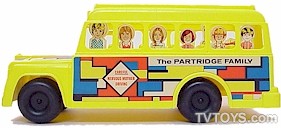 By the end of the show's first season, Partridge Mania was in full swing. A flood of collectibles was released, including the first of 21 Partridge Family comic books, three trading card sets, a board game and the first of two View-Masters. In addition, three more record albums hit record bins, and sold at such a rapid rate that promoters wanted to book The Partridge Family for concert tours. Unfortunately, they had to be reminded that the group only existed on television.
Fueling The Partridge Family money machine was the Saalfield Publishing Company, which produced a large selection of paper products. Included were five coloring books, a David Cassidy Paint and Color Album, a Pictorial Activity Album and 10 different sets of paper dolls in both booklet and box styles. Today, unused coloring books sell for $25-$35, while paper dolls go for $35-$45.
During the show's second season in 1972, David Cassidy was at the height of his popularity, and much of the memorabilia produced that year focused on his visage. Among the items were 14 David Cassidy comic books, a jigsaw puzzle, several paperback books, a clock face, school notebooks and a David Cassidy Dress-up set by Colorforms. Probably the most difficult item to locate today is the David Cassidy beach towel, which was available exclusively as a Hi-C drink mail-away premium. Most zealous Partridge Family collectors are willing to pay more than $100 to add this item to their collections.
With the exception of a few records and magazines, 1973 was the last year that original Partridge Family memorabilia was manufactured. This is not to say that the money machine had slowed down. After all, that was the year some of the most alluring items were made. One of these being The Partridge Family's multi-colored plastic toy bus by Remco. Included were figures of the cast and a box designed to look like a garage. This piece is truly the heart of the collection and is valued at more than $500 when found in its original box.
In 1973 Remco also produced a 19-inch Laurie doll wearing a hot-pink sweater and tattered blue jeans with a small Partridge on the hip pocket that is valued today at $200. For David Cassidy fans, Carnival Toys created two different-sized toy guitars. The larger of the two is 31 inches high and is red with a white front and black trim. The smaller 20-inch version is beige with a black handle. Both styles feature the same photo sticker of David, along with the inscription "Yours, David." Each guitar is valued in the $100-$200 range.
Although the popularity of Partridge Family memorabilia has continued to escalate, many items still can be found at local flea markets, antique and collectible shows, and in trade papers. Be prepared to pay a competitive price if you're trying to add some of the more elusive pieces to your collection. When you do, you'll find yet another meaning to the term, "The Partridge Family Money Machine."
From the publication Collecting Magazine
Greg Davis and Bill D. Morgan are the authors of
Collector's Guide to TV Toys and Memorabilia — 2nd Edition Website: TVTOYS.com
Copyright (c) TVTOYS.com, Odyssey Publications. All Rights Reserved.
---
The Partridge Family
QuickLinks
---